Structured Cabling is defined as building or campus telecommunications cabling infrastructure that consists of a number of standardized smaller elements (structured).
A properly designed and installed structured cabling system provides a cabling infrastructure that delivers predictable performance as well as has the flexibility to accommodate moves, adds and changes; maximizes system availability, provides redundancy; and future proofs the usability of the cabling system. And since it is the crucial backbone of a communication system. E&S Builders know the complex issues involved in planning, installing and maintaining network communication systems. With our skill and experience, E&S Builders provides our customers with the assurance that the telecommunications infrastructure, no matter how complex, will be designed, constructed and installed to meet existing and future requirements.
Data Center Cabling Services
Your data center is the heart of your company's IT infrastructure. And just as a strong heart can empower you to do amazing things, a properly cabled data center can empower your business to grow by leaps and bounds. But a data center that has allowed its cabling to fall into a tangled jumble of uncertain connections represents a disaster that can hinder your company's ability to properly function and grow. Whether you need cabling installed, or a disastrous data center rewired, our team will begin with a thorough assessment of your data center environment. Overseen by a certified project manager, the next step involves a design of the new network infrastructure and data center cabling layout. And before we connect or disconnect anything, we walk you through the process to ensure your team is aware of the project timeline and outcomes. Our structured cabling installation will help you protect your data center cabling investment and give you the confidence that your new data center -and your new network infrastructure – are built to support the latest technologies and future needs.
Cable Rewiring Services
From expanding an office to implementing new technology, there exist any number of positive reasons why your company would consider a cable rewiring project. Unfortunately, there are just as many structured cabling disasters that necessitate promoting a cable rewiring project from consideration to emergency. Regardless of the situation, a cable rewiring project must be approached with care and precision, to avoid service disruptions and to lay the foundation for scalable growth. Our cable rewiring services are designed to ensure no data – or data access – will be lost during any physical move, technological upgrade, or network cabling refit. We will assess, design, and implement a solution – in collaboration with your team – quickly and cost-effectively. And keep your team focused on the business.
E & S Builders provided excellent service during various projects for Casinos. During challenging times the E & S Builders team were always available and assisted in tasks beyond their scope of work. No job is too big or too little, I thank everyone at E & S Builders for their support.
As a project manager it is important to work with companies who offers solutions, adapt to change and work collaboratively. E & S Builders have knowledge in abundance but not only that, are willing to share and engage in order to achieve tight timelines. Never once did they let me down.
The cabling definitely is neater and more reliable, and these days you need reliable IT. E & S Builders team are responsive to issues, good at delivering the plans. This is a company I like recommending as I am confident they almost always deliver, and if occasionally it goes wrong, the solution won't be long away.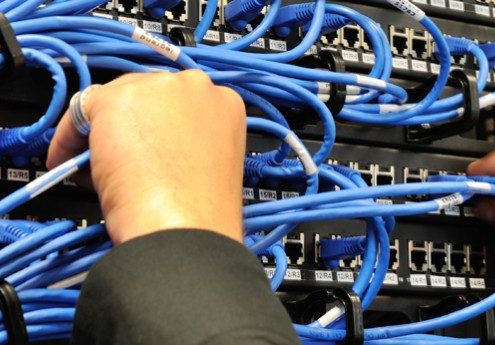 Reasonable Flat Rate Pricing